Welcome back to another review with Lone Star Lit! The folks who love to highlight my fellow Texas authors and/or Texas-based stories. I've had a blast discovering new authors and books the past two years that I wouldn't have likely read, otherwise. As an author, and avid reader, I'm always looking to expand my literary horizons, and reading outside my preferred genres is a fantastic way to do just that.

I happily discovered Preson Lewis's Three Rivers Trilogy over a year ago with Rio Riodoso. It was the sort of story that felt real, with characters and places I could easily picture when I closed my eyes. I enjoyed it so much, I knew I couldn't miss the chance to read the sequel, Rio Bonito. If you love westerns or historical fiction, this would be the perfect series for you. So keep reading and don't forget to enter the big giveaway below! First, though, a little about the book.
RIO BONITO
Three Rivers Trilogy, 2
by PRESTON LEWIS
Categories: Western / Historical Fiction
Publisher: Five Star Publishing
Pub Date: August 18, 2021
Pages: 336 pages
---
Scroll down for Giveaway!
---
With Lincoln County teetering on the edge of lawless turmoil, small rancher Wes Bracken avoids taking sides, but his goal is complicated by his devotion to what he sees as justice and by his friendship with William H. Bonney, who's developing a reputation as Billy the Kid.
As Lincoln County devolves into explosive violence, Bracken must skirt the edge of the law to guarantee the survival of his family, his spread, and his dream. But dangers abound from both factions for a man refusing to take sides. Before the Lincoln County War culminates on the banks of the Rio Bonito during a five-day shootout in Lincoln, Bracken is accused of being both a vigilante and a rustler. As the law stands idly by, Bracken's ranch is torched, and his wife is assaulted by the notorious outlaw Jesse Evans. Survival trumps vengeance, though, as Bracken tries to outlast the dueling factions aimed at destroying him.
At every turn Bracken must counter the devious ploys of both factions and fight against lawmen and a court system skewed to protect the powerful and politically connected. Against overwhelming odds, Bracken challenges the wicked forces arrayed against him in hopes of a better life for himself, for his family, and for New Mexico Territory. And throughout it all, Bracken stands in the growing shadow of his sometime pal, Billy the Kid.
CLICK TO PURCHASE
Amazon    Barnes and Noble  Books-a-million
---

5 of 5 Stars
"A gun can't solve everything," Wes Bracken tells the young Billy Bonney in Rio Bonito. "Maybe not, but it does stop a bushel of nonsense," the Kid replies. Welcome back to Lincoln County, New Mexico Territory. Where outlaws run wild, politicians shoot to kill, and honest men resort to violent means to survive. If you love westerns and Billy the Kid, there's a good chance you will also love Preston Lewis's Three Rivers Trilogy. 
Picking up after the events of Rio Ruidoso, we return to the Mirror B ranch to find Wes Braken and Sarafina happily married and working alongside their friend and partner, Jace Cousins. But the troubles in Lincoln County haven't stopped, not when wicked men like McSween as the ruling kingpin, and outlaws like Jesse Evans wreacking havoc. Decent folk still struggle to make a living, and tensions that began in Rio Ruidoso soon come to a cataclysmic head. Amid the chaos, Wes befriends Billy Bonney, occasional ranch hand or outlaw depending on the wind. While Wes would rather avoid confrontation that threatens to tear his home apart, Billy "the Kid" seems to run headfirst into trouble. And Wes's partner, Jace is determined to make Jesse Evans pay for his many debts. 
Where Rio Ruidoso painted a sweeping step into the past and introduced thrill-inducing action, Lewis really upped the stakes with our return to Lincoln County. Characters we came to know and love in the first book are tried and tested in unpredictable ways. As before, Lewis shows his gift for drawing the reader in with Wes Bracken's sharp wit and true grit as he tries to make a safe home for Sarafina and their growing family. Unlike the stereotypical Western hero, Wes isn't a gunslinger or reformed outlaw. He's just a man trying to make his dream happen much like the other good people of the county. There's something fascinating and intriguing to watch a character struggle and suffer to uphold what he and others have, only to fail. Though Wes never seems to lose his cool when the outlaws begin targeting his family, he also finds himself falling deeper into violent means to keep from losing everything. As Wes claims, "What faith I have, is strengthened by plenty of ammunition."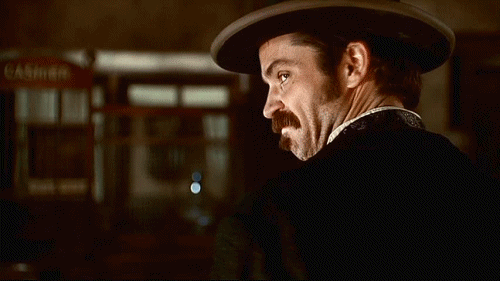 While the inevitable gunfights and showdowns are just as titillating as the first in the trilogy, I found Wes's friendships with Jace and Billy the Kid the most interesting parts of the story. Billy gets a much larger role in Rio Bonito, beginning as a horse thief, and ending with a promise to Wes and a determination not to give up on the impossible dream of an honest living. Meanwhile, Jace has been on the hunt for outlaw Jesse Evans for years, and through his conversations with Wes, begins to question their methods. "Are we the righteous, or are we the wicked in Lincoln County?" Jace asks Wes at a poignant and telling crux of the story. Wes isn't so sure anymore, but he is also determined to seek justice and vengeance as never before. 
With timeless themes and characters you can't help but root for, Rio Bonito ups the stakes and sets the stage for the epic finale in the Three Rivers Trilogy.
**I was provided with a copy of Rio Bonito by the publisher and this is my voluntary and honest review.**
---
MEET PRESTON LEWIS
Preston Lewis is the Spur Award-winning author of 40 westerns, historical novels, juvenile books and memoirs. He has received national awards for his novels, articles, short stories and humor.
In 2021 he was inducted into the Texas Institute of Letters for his literary accomplishments. Lewis is past president of Western Writers of America and the West Texas Historical Association.
His historical novel Blood of Texas on the Texas Revolution earned a Spur Award as did his True West article on the Battle of Yellow House Canyon. He developed the Memoirs of H.H. Lomax series, which includes two Spur finalists and a Will Rogers Gold Medallion Award for western humor for his novel Bluster's Last Stand on the battle of Little Big Horn. His comic western The Fleecing of Fort Griffin and two of his YA novels have won Elmer Kelton Awards for best creative work on West Texas from the West Texas Historical Association.
He began his writing career working for Texas daily newspapers in Abilene, Waco, Orange and Lubbock before going into university administration. During his 35-year career in higher education, he directed communications and marketing offices at Texas Tech University, Texas Tech University Health Sciences Center and Angelo State University.
Lewis holds a bachelor's degree in journalism from Baylor University and master's degrees from Ohio State in journalism and Angelo State in history. He lives in San Angelo with his wife, Harriet.
WEBSITE ║ FACEBOOK ║ GOODREADS ║AMAZON AUTHOR PAGE
---
GRAND GIVEAWAY!
TWO WINNERS:
1st: Signed copies of Rio Ruidoso & Rio Bonito;
2nd: Signed copy of Rio Bonito.
(US only; ends midnight, CDT, 9/17/21)

---
FOR DIRECT LINKS TO EACH POST ON THIS TOUR, UPDATED DAILY.
 Or, visit the blogs directly:
| | | |
| --- | --- | --- |
| 9/7/21 | Review | |
| 9/7/21 | BONUS Promo | |
| 9/8/21 | Excerpt | |
| 9/8/21 | BONUS Promo | |
| 9/9/21 | Author Interview | |
| 9/10/21 | Review | |
| 9/11/21 | Excerpt | |
| 9/12/21 | Author Interview | |
| 9/13/21 | Review | |
| 9/14/21 | Sneak Peek | |
| 9/15/21 | Review | |
| 9/16/21 | Review | |
---
blog tour services provided by