Welcome back to a fresh book review! Life has been a constant series of stops and starts for me as I continue juggling my 10-month-old. But I've slowly been gaining endurance to handle all the things, or at least do my best at it. And I'm exicted to read more fantastic books and share my love of reading with you! On that note, I absolutely adored this one. Skyriders is the kind of epic fantasy I would have gobbled up in a day as a kid. It's a lot harder to binge-read with a baby in my lap (constantly grabbing my phone, sighs, lol). But it was so worth the tug-of-war for this one! Polly Holyoke is officially on my authors-to-watch list. I'm so grateful for the opportunity and hope you'll stay tuned for my review and the big giveaway below. On that note, let's dive on in!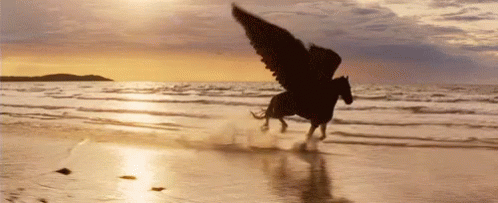 SKYRIDERS
SKYRIDERS SERIES #1
by POLLY HOLYOKE
Children's Fantasy / Middle Grade Readers / Mythical Stories / Adventure
Publisher: Viking Books for Young Readers
Date of Publication: March 7, 2023
Number of Pages: 304 pages 
SCROLL DOWN FOR THE GIVEAWAY!
---
Wings of Fire meets Pax in this epic fantasy adventure set in a world where human and skysteed share a deep bond of friendship. When monsters emerge to attack the empire, it's up to shy Kiesandra and her beloved winged horse N'Rah to prove to the imperial army that she has what it takes to lead them to victory . . . and to ensure the survival of their world.
Buzzing with action, heart, and friendship, this first book in the Skyriders series shows that kids can achieve the impossible–especially with flying horses on their side.
---
PRAISE FOR SKYRIDERS
"Skyriders soars off the page and takes you along for an epic adventure that will leave you breathless and asking for more."
—James Ponti, New York Times bestselling author of the City Spies series
"A breathtaking, mythical adventure. This is the kind of book I would have devoured and read over and over again as a kid." 
—Liesl Shurtliff, New York Times bestselling author of Rump and the Time Castaways trilogy
"Kiesandra Torsun is an unforgettable heroine who never gives up, even when facing staggering odds against vicious three-headed monsters attacking her homeland. Her loyalty, courage, and kindness won me over and her bond with her winged horse left me dazzled."
—Mary E. Pearson, New York Times bestselling author of The Remnant Chronicles
---
CLICK TO PURCHASE FROM:
Off the Beaten Path (signed copies)
---
---

A sweeping epic adventure for kids of all ages, Skyriders is the kind of story you can really sink your teeth into. For starters, this cover art is exactly what would have drawn me in as a preteen. It leaps off the screen the same way it no doubt is leaping off the bookshelves. I could wax poetic about the artwork and the typography is also top-notch, but I think the striking pose of Kie and N'Rah is what makes this top shelf for me. I don't always go on about cover art, but this is a fantastic example of how to do it right. But what a gorgeous cover is still an empty shell without an equally stellar story. Luckily for us Polly Holyoke is, I'm convinced, simply brilliant.
Skyriders hit all the elements I love about epic fantasy and middle-grade fiction. Kiesandra and N'Rah are couriers tasked with carrying messages across the empire. Kie loves her skysteed, her work, and her Uncle Dug, who stays on their farm due to an old war injury. While Kie doesn't let the opinions of others bother her, she's too tongue-tied to say anything if she did. All she wants is to stay home and keep her father's dream of growing their crops alive. Until everything Uncle Dug warned her would happen literally happens, and it's thanks to his teachings she escapes the legendary chimerae alive. Until Kie and N'Rah are forced to venture to the heart of the capital on what seems like a fool's errand. After all, who is going to listen to a thirteen-year-old girl? Turns out, the person she helped save is the Emperor's son, and Prince Shayne may be the key to helping Kie find her voice in the end.
Like many girls in my generation, I was obsessed with horses and their mythical counterparts. So while the fact Kie is thirteen and flying across the country vaguely terrifies adult-mom-me, pre-teen me would have absolutely been on board for Kie and N'Rah's adventures. Skyriders is similar to the fantasy books I loved as a child, with an immersive world and fun and interesting characters, while also offering something I haven't seen before. A big highlight for me is the bond Kie shares with her Uncle Dug, which drives her forward, but especially her bond with her skysteed, N'Rah. Turns out, in a world where most riders can only bond and speak with their personal steeds, Kie is unique. She's able to not only hear hers and her uncle's skysteeds across great distances, but she can hear all skysteeds she touches. If that wasn't cool enough, the battles against the chimerae are so visceral and pulse-pounding, you can't help but feel like you're right with Kei and N'Rah in the fight for their lives and the kingdom.
A brilliantly written fantasy for everyone who dreamed of flying their own pegasus as a child, Skyriders will carry you to an exciting new world.
**I was provided a copy of Skyriders by the publisher. These are my honest thoughts and opinions.**
---
MEET POLLY HOLYOKE
Polly Holyoke is the award-winning author of the middle grade sci/fi Neptune Trilogy (Disney/Hyperion) and the new children's fantasy series, Skyriders, (Viking Children's Books). A former classroom teacher, Polly loves doing school visits and getting students excited about writing.
Polly grew up in Colorado, where she spent her childhood skiing, camping, reading, and dreaming up fantastical stories. Polly went on to graduate from Middlebury College and become a middle school social studies teacher. She lives with her husband and their two daughters, as well as two cats, two Chihuahuas, and a beagle.
◆ WEBSITE ◆ FACEBOOK ◆ TWITTER ◆
◆ PINTEREST  ◆ GOODREADS ◆ INSTAGRAM ◆
---
GIVEAWAY! GIVEAWAY! GIVEAWAY!
ONE WINNER:
Signed copy of SKYRIDERS, set of 5 flying horse necklaces
+ a $25 Barnes & Noble gift card.
(US only; ends midnight, CDT, 4/7/23)
---
CLICK TO VISIT THE LONE STAR LITERARY LIFE TOUR PAGE
FOR DIRECT LINKS TO EACH POST ON THIS TOUR, UPDATED DAILY, 
or visit the blogs directly:
| | | |
| --- | --- | --- |
| 03/28/23 | | Book Trailer |
| 03/28/23 | | BONUS Promo |
| 03/29/23 | | Review |
| 03/29/23 | | BONUS Promo |
| 03/30/23 | | Author Video |
| 03/31/23 | | Review |
| 04/01/23 | | Excerpt |
| 04/02/23 | | Promo |
| 04/03/23 | | Review |
| 04/04/23 | | Author Interview |
| 04/05/23 | | Review |
| 04/06/23 | | Review |
---
blog tour services provided by