Read So You Can Write
If you happened to read my post on my book blog, then you might have an inkling on what I'm about to say. But I thought it might be another way to keep me accountable to y'all and myself, in my latest challenge.
I realized after completing my Goodreads reading challenge for last year that I barely read thirty books. Just thirty in a year! That may sound fantastic for many of you. Life can be busy and it's easy to let things slip away from us. But this last year I barely wrote as well. I looked at the past couple of years and saw a pattern. Because in 2012, when I was writing Qeya, Silver Hollow and Stay, I read 80 books. And at the time, it wasn't a hard feat whatsoever.
So here's my challenge: 90 Books in a Year. And even though I typically only post book reviews on my book blog, I'm going to make an exception. Every couple of books or so I'll post my reviews here to keep on track. Hopefully I'll read so much that I'll find fresh inspiration and excitement to share my own stories.
Feel free to leave comments with suggestions or to share your personal challenges for 2015. Let's make this new year a brilliant one!
---
#1) "Flukes" by Nichole Chase
Rating: 4 out of 5 Stars
Review: This isn't my first introduction to Nichole Chase's fabulously fun writing. "Suddenly Royal" won me over with a dreamy landslide of imaginatively fulfilled girlhood fantasies, and "Flukes" was no different. Every little girl dreams of being a mermaid at some point and "Flukes" painted a fantastical picture of what happens when you grow up a sea monster with human parents. The additional island setting with its marine center offered a slightly more exotic but imaginable fantasy. While in my opinion there wasn't enough time devoted to understanding the whole mermaid mythos, along with its rules and such, the author provides enough to leave you wanting to know more. I enjoyed the romance, which wasn't too cheesy or over-the-top, while being just wonderful enough to add warmth and heat to the story. The characters are all interesting and enjoyable and I look forward to the next story penned by this author.
---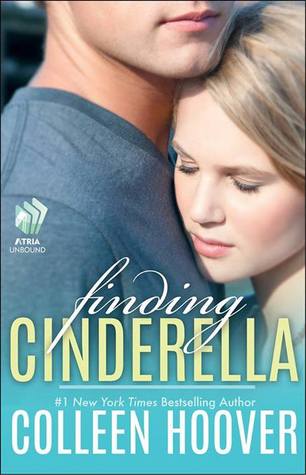 #1) "Finding Cinderella" by Colleen Hoover
Rating: 4 out of 5 Stars
Review: In the same vein as "Hopeless", Colleen Hoover takes us once again along the road to redemption and offers us hope. "Finding Cinderella" is a novella in the same world as the aforementioned novel, and while it is shorter, it possesses the same quality and natural, gritty beauty you can expect from this phenomenal author. Hoover has a true gift for young and new adult romances, and each of her stories are markedly different in the best of ways. "Finding Cinderella" is told from the refreshing, crass and irreverent point of view of Daniel, a teen with a penchant for nicknames. His quest is to find his long lost Cinderella and, of course, he has to give up before he can truly find her. While I had a clear picture of where this novella was headed, I was pleasantly and shockingly surprised by the turn of events. Furthermore, it solidified my opinion of Colleen Hoover having the freshest voice of her genre.
---
#3) "Thorns" by Kate Avery Ellison
Rating: 4 out of 5 Stars
Review: I dove into "Thorns" quickly after finishing "Frost", first installment in Kate Avery Ellison's "Frost Chronicles". And after, quite unceremoniously, it was lost in my to-read list. I'm very happy that I picked it up again earlier this evening. I was quickly drawn back in by Lia Weaver and her extraordinary family. I am a huge fan of Ellison's gift for world building and strong female characters. She isn't an author afraid to go deeper, to portray various kinds of strength and courage. Questions from the previous story are explained further in this installment, as well as revelations that will have your head spinning at the possibilities. You might have already guessed that I just opened the next in this fantastic dystopian series, "Weaver" and look forward to unwinding the tapestry the author has woven for us.